Get Out of Town: The Benefits of Industry Conferences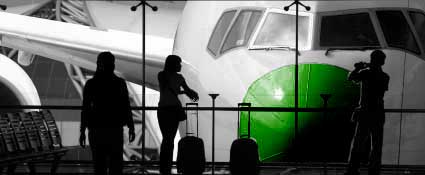 Affiliate marketing can be a lonely profession. For many independent Internet marketers, the day is spent in front of a computer, communicating with the outside world via text or e-mail. Perhaps there is an occasional phone call that serves as a reminder that humanity still exists. Very few affiliates can boast of a strong support system that gives them access to colleagues with whom they can strategize, commiserate, and brainstorm. But with so many industry events and conferences available, affiliate marketing doesn't have to be synonymous with living a hermit's life.
If you're new to affiliate marketing, conferences are a fantastic way to learn what it's all about. You can learn a lot in a short amount of time from the industry veterans and top producers who are tapped as keynote speakers and workshop presenters. If you're already an industry insider, conferences can bring you new insight and ideas and a fresh perspective. Two events I recommend are Affiliate Summit, the industry's top conference, and Niche Affiliates Marketing System (NAMS), a training workshop with four different experience-level tracks. Of course, many others can be found by conducting a quick Google search. And don't be afraid to go wide and consider conferences designed for online marketers in general.
When you do decide to attend an industry event, my best advice is to approach it as a step toward building your social network versus your business. Conferences are all about networking and cultivating professional relationships. Even though our work is exclusively online, face-to-face interaction is still the best way to connect with others. In time, these relationships will likely build the financial aspect of your business. The cool thing is that everyone who attends these conferences is interested in affiliate marketing, and everyone brings a different experience to the table.
My next piece of advice is to make the most of the opportunity. You took the time and spent the money to attend, so squeeze everything out of it you can. You can meet people you might not have met if you stayed home. Resist the urge to be a wallflower. Introduce yourself to people, talk with them, listen to them. Attend as many of the after-hours social events as you can stand. People are always more relaxed at these gatherings and usually share more information than they would on the trade show floor or during a workshop.
At the very least, attending conferences gets you out from behind that computer. It's your chance to connect to a unique community of like-minded people, and it's a great way to take your business to the next level while building a support system that might make you feel a little less lonely. So, what are you waiting for? Pack those bags and get out of town!